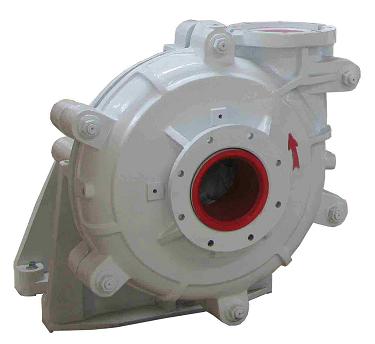 Slurry Pump M, HH, AH(R) Series
1, Features:
Type M, AH(R), HH slurry pump are cantilevered, horizontal, centrifugal pumps, outlet from 25mm to 450mm. They are also named as heavy slurry pump because of bear-abrasive parts and heavy base.
The frame plates for AH pumps have replaceable wear-resistant metal liners or rubber liners. The impellers are made of wear-resistant metal or rubber. The liners and impeller for HH pump are adoptable of hard metal only.
Bearing assembly use cylindrical structure,adjusting the space between impeller and front liner easily, being removed completely when being repaired.
Bearing assembly use grease lubrication.
The shaft seal: packing seal, expeller seal and mechanical seal.
The discharge branch can be positioned at intervals of 45 degrees by request and oriented to any eight positions to suit installations and applications.
There are the drive types, such as V belt drive, gear reducer drive, fluid coupling drive, frequency conversion drive devices.
Wide performance, good NPSH and high efficiency. The pump of this type may be installed in multistage series to meet the delivery for long distance.
2, Application:
M, AH(R), HH pumps are used to pump high-hardness, strong-corrosion and high-concentration liquids that contain suspended solid particles, such as finished ores, refuse ores, ashes, cinders, cements, mud, mineral stones and etc. in the industries of metallurgy, mining, coal, power, building material and etc. The temperature of the pumped solid-liquid mixture should be ≤80oC, and the weight concentration should be ≤60 .