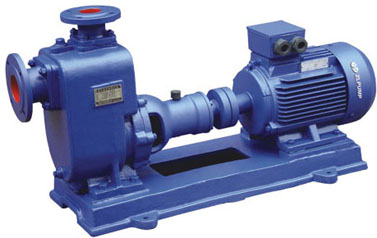 ZX Self-suction Centrifugal Pump
1, Feathers:
ZX series self-priming pump is a kind of energy-saving pump. The bottom valve needn't be install pipeline, it 's only necessary to reserve a fixed quantity of guide liquid in the pump body before work. Therefore, it simplifies the pipeline system and also improves the labor conditions.
2, Applications
It is applicable for urban environment protection, construction, fire control, chemical industry, pharmaceutical, dying, brewage, electrical power, galvanizing, paper making industry, etc.
It is also applicable for clear water, seawater, liquid containing acid or alkali chemical medium, and generally mushy slurry (medium viscosity≤100cP and solid content less than 30%).